LaserScan for BIM
We provide digitalization and visualization of buildings for the 21st century.
We are the only company in the Czech Republic to own a modern and innovative Indoor3D for fast and efficient building digitisation.
SERVICES
We offer the following services:
3D digitisation and visualization of buildings from small ones to large halls
Creating the necessary documents for passport and BIM
Digitization of the building means the transfer of the actual state to a virtual 3D image. We will create a so-called digital twin, which is an exact copy of the building in the form of an interactive web application.
IndoorViewer application includes:
panoramic images
3D point cloud
on-line measurement
navigation, etc.
We manage to measure up to 20-25,000 m2 in a single day, depending on the building type.
The results will be delivered unbeatably fastest of all!
Where we scan
production halls and industrial zones,
office buildings and public institutions,
historical buildings, department stores, railway stations, etc.
Scan usage
long-lost or non-existent 2D building plans,
virtual tour available from anywhere,
reliable information system suitable for BIM.

Speed
We can measure the building up to 5 times faster than using

Efficiency
Survey speed and automated processing save up to 80% of time.

Accuracy
The final accuracy of the 3D scan is up to +/- 2cm.
Availability
The data is stored in the cloud and therefore available from anywhere in the world.
THE WAY WE SCAN
The building digitisation process in three steps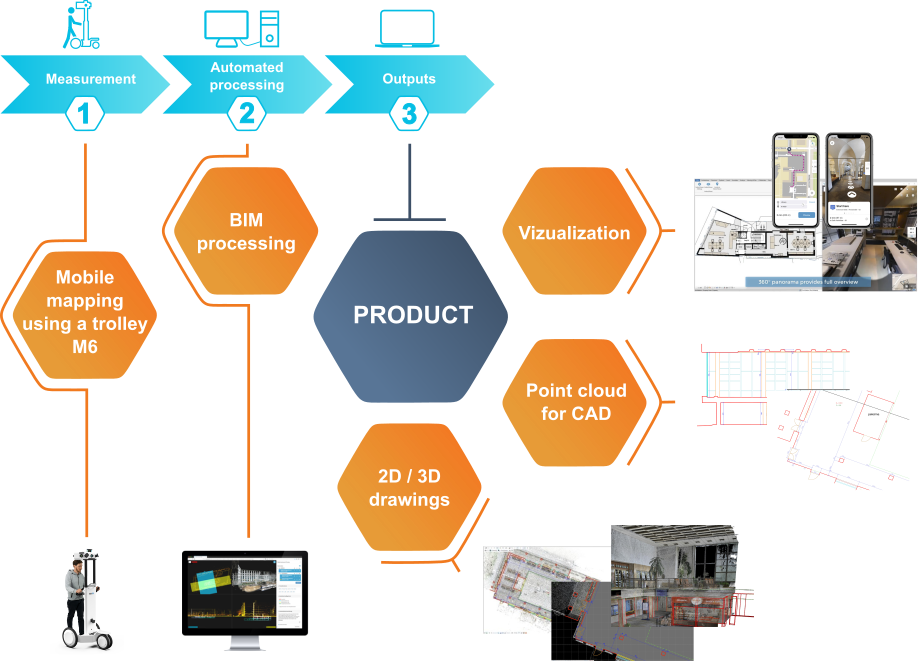 Measurement
We measure the building up to 5 times faster than using conventional methods.
During a single visit we capture a large amount of data - 3D scan building, panoramic images, the strength of BT, Wi-Fi and the magnetic field of the earth.
BIM processing
Processing is semi-automatic​.
Significant reduction in delivery times.
Reduction of error rate to a minimum.
WE ALSO PROVIDE THE SERVICES SEPARATELY
Laser Scanning
Using the mobile scanning method, we can digitize your building very quickly.

You get a 3D point cloud suitable for 2D plans, sections, 3D modelling, etc.
Vizualization
Visualization is in the online application IndoorViewer.

We will create so-called digital twin building, which contains practical functions such as online measurement, navigation, etc.
Vectorization
2D floor plans.

Vertical sections and views.

Wireframe.
We are the only ones in the Czech Republic that offer the digitization of buildings with the most modern technology in the world.
USE OF TECHNOLOGY
Virtual tour

BIM

IoT

Navigation

Logistics

Reality

Facility management

Construction monitoring

REFERENCE