Interactive Web Application
A modern interactive web application for visualization of scanned objects.
The IndoorViewer includes unique features and offers a wide range of practical functions from the comfort of your computer, tablet or mobile phone.
Realistic 3D building
Experience an augmented reality in new fresh way. Indoor Viewer enables you to virtualy walk through the building and gives you an impression like you are right there. This web based application consists of 360° panoramtic pictures as well as 3D point cloud and number of smart tools.
Innovative display of 3D data

All in one place

Interactive tools to improve efficiency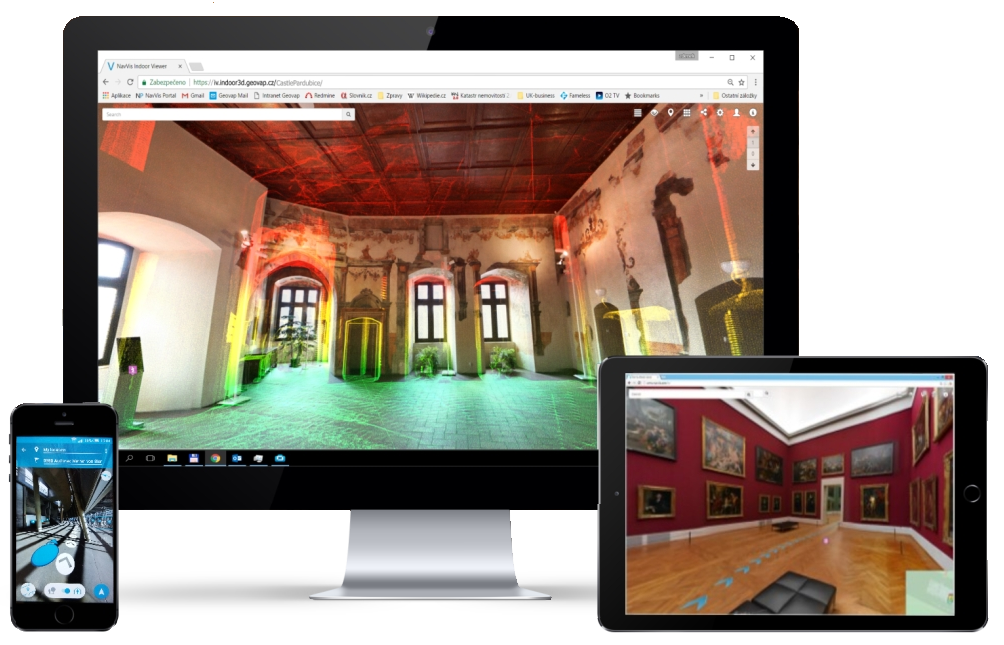 Indoor Viewer is equipped with a number of useful functions.
Built-in features allow you to use the application according to your needs.
Explore the building interior with virtual reality, expand the possibilities of built-in navigation by inserting your own points of interest. Share everything you need with your colleagues.

High resolution images

High-resolution panoramic images are taken with each step. This will allow you to explore every corner of your building.

Create a point of interest (POI)

Simply add a point of interest anywhere in the building. A point of interest can include a text, an image, a video, an iframe, and more.

Point cloud

An advanced rendering algorithm allows you to stream a point cloud with a resolution of up to 5 mm directly in your browser.

Geo-location and registration

Indoor Viewer has built-in tools for registering individual scans in the global coordinate system.

Share the exact location

Share the location of buildings or objects inside on the web or social networks.

User's rights

Set access rights for different user groups.
Virtual tour
Explore interior spaces in a perfect 3D visualization.
The interactive IndoorViewer application works in any browser and displays a 360 ° view in high resolution.
On-line point cloud on all devices
You have access to spatial data on all mobile devices.
Use the measured data to survey the interior.
If you have data from other devices, you can easily import it.
Point of interest
An easy way to add, edit and manage georeferenced information about your building using points of interest.
The owner or a manager of a building can add or share valuable information.
Mark the floor plan and find the area
Create a simplified floor plan using the Site Model, where you mark its boundaries.
This way you can easily determine the floor area, individual rooms or their volume.
Navigation
Find the fastest way between the points A and B.
Full-text search the point of interest between which you want to navigate and you will get exact instructions how to get to your destination.
Undoubtedly you can navigate between any points you select in the object.
Try online sample
Use to enlarge to full screen.
Use to switch from map view to 3D visualization.
Use the icon to turn panoramic images on/off and then see the point cloud itself. This symbol can also activate the function for measurement Start measurement. Select the distance type Vertical/Horizontal/Free. Alternatively, move the cursor to the object and by the right-click activate Start measurement. In the same way, end the measurement by the right click End measurement.
Activate the cloud by clicking on the icon and select Show point cloud. To highlight details, click on the arrow next to Appearance and set the size of the displayed point. Point size less than 1.
The navigation function in the interior is possible between individual points of interest or even arbitrarily selected position (long click of the left button). Click on the point of interest and click on Route, or you can use the full text search.